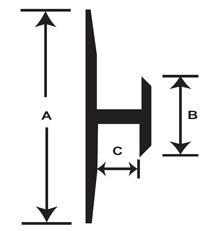 250 Divider for 1/16" mat'lA:1-3/8" B:3/8" C:1/16"
Our mirror mouldings are used in the glass industry as well as for any application where a corner or seam needs to be concealed. In stock in many sizes and finishes
Divider Bar Mirror Moulding
A:1-3/8"
B:3/8"
C:1/16"
Standard length of material 8ft and 12 ft.
Alloy 6063
This product qualifies for quantity discount pricing.
(
what's this?
)